Our Favorite Wedding Venues
We have photographed weddings at nearly every venue in Arizona as well as several outside of Arizona for destination weddings. Our experience can provide inside information to make your decision the right one!
Our Favorite Wedding Venues
The perfect venue is a melange of each element listed above. Next to photography your venue is the most important decision you will make for your big day! Consider the atmosphere and evaluate the background, your photography will be all the better for it. Something that many brides fail to consider is what the "bridal suite" or getting ready room looks like. If it's shabby or plain, lacking in elegant features it will show in your photography. Also, ask about the reception area, will there be lighting, if so what is its style and layout? background lighting can create beautiful reception photos for you to enjoy for a lifetime. In the end, it all comes down to who the coordinator is. This is who will be planing all of the details so, make sure that you get along with them and be sure that they have the experience that you can depend upon. If you've found your venue based on these values then you're going to be delighted when the time comes to share this moment with the love of your life and your best friends and family members!
SANCTUARY
Breathtaking mountaintop views, an intimate glass-enclosed ballroom, and beautifully landscaped grounds – Sanctuary Resort on Camelback Mountain offers the perfect setting for a magnificent Arizona wedding.
* Between $19,189 and $19,661 for a ceremony & reception for 100 guests.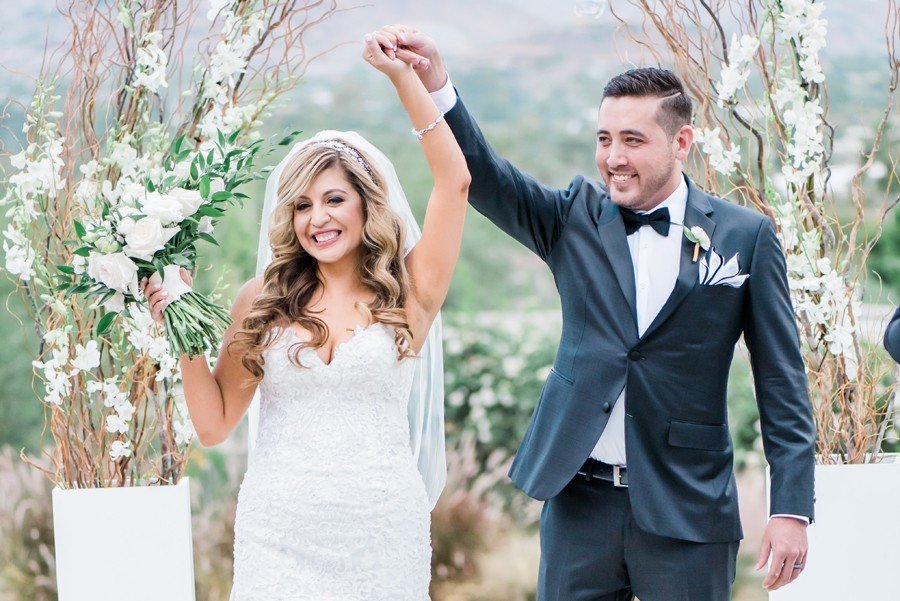 We have photographed weddings and couples at The Sanctuary many, many times over the years. If your photographer is familiar with the layout of the grounds, there are hidden gems all over! Hint; ask the valet to take you both up to the mountain point in a golf cart just before sundown and enjoy stunning views. Sanctuary does provide a room nearest to the ceremony site that is decent in size and while it is not overly decorated, it is still in keeping with the atmosphere of the resort, in a word Elegant (many couples opt to use one of their suites). Every staff member from the valet to the concierge is attentive and eager to help. In the end, it's the views and the style of The Sanctuary that make it a diamond tucked away in one of the nicest parts of the Scottsdale Arizona desert!
Windmill Winery
Let The Windmill Winery take your breath away with its various spots on the property to host the rustic-chic wedding of your dreams. Consider tying the knot in The Big Barn under high ceilings, surrounded whimsical twinkling lights strewn artistically on exposed arching wooden beams.
*$12,643 to $18,756 for a ceremony & reception for 100 guests – The rental fee for a ceremony only wedding is $1,500.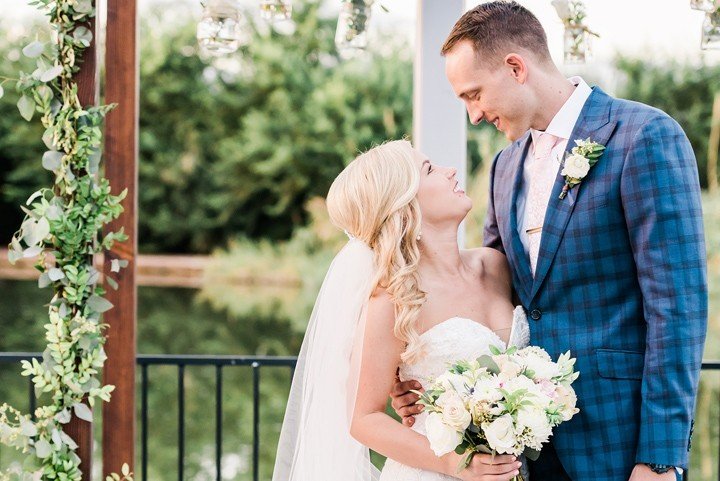 At the Windmill Winery, you will find multiple options to have your ceremony and reception. With its sprawling estate, the options seem endless. Nearest to the cornfields is a pond, backed up to a beautiful rustic ceremony site with a walk down the aisle that's fit for a queen. This spot makes for beautiful photos of your ceremony with the soft look of the pond water gracing the backdrop. Just steps from the ceremony site is the reception hall that is large enough to accommodate every family member and friend that you can think of. Perhaps our favorite part? Photographing bridal formals here! The grounds offer so many beautiful spots to take pictures at that we can't get enough of The Windmill Winery.
The only drawback that we can think of is that it's located in Florence which can be a bit of a drive for guests but, it's definitely worth it…plus they have a donkey that holds your beer!
POINTE HILTON
Sacred vows are even more meaningful amid the glowing Sonoran Desert and overlooking the distinctive beauty of the North Mountain Preserve. Their dedicated team of planners will ensure your wedding is one of your most cherished memories, with extensive experience, attention to detail and vast knowledge of current wedding customs and trends.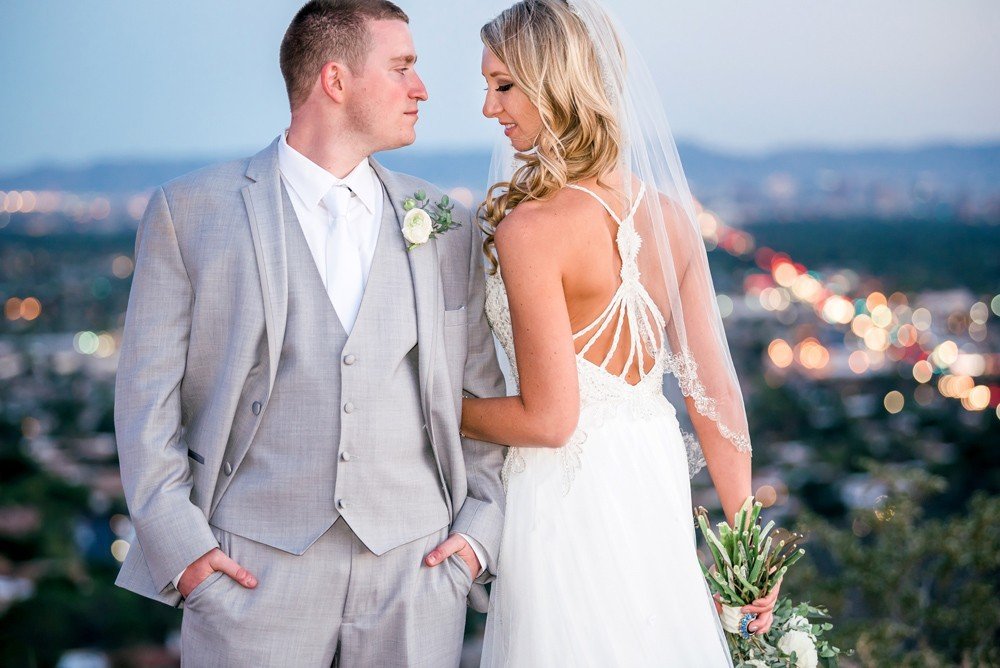 The Point Hilton is a vast resort where one can only get around by driving. They have a stunning section of the resort called The Tapito Cliffs, this is where you will the most breathtaking ceremony site of in town (and it's also where we got engaged!). The ceremony site overlooks the city below and you read your vows while the sun sets behind you. Afterwards, their are two options for the reception, both with exquisite taste surrounded by five diamond quality. While some may appreciate the multiple tears of the main reception site (toasts and sweetheart table up top, dancing below in front, and guest seating even further down behind the dance floor) it does make it challenging to get those magazine-worthy reception photos when everyone hits the dance floor. Without a doubt, make sure to book a photographer that has worked this venue before!
BOTANICAL GARDENS
The garden features over 50,000 plants displayed showcased in the beautiful outdoor exhibits. The Steele Herb Garden is the perfect place for an intimate wedding, nestled amongst the desert landscape. Enchanting views of the Arizona sunset behind Camelback Mountain and the refreshing scents of sage and lavender create a serene atmosphere for your guests to relax while celebrating your special day.
* $3,500 for up to 5 hours, additional hours priced at $700/hr.
As photographers who have photographed over 30 weddings and engagement sessions at The Botanical Gardens, our biggest recommendation is to hire a photographer that is familiar with the grounds. While every inch of this venue is breathtaking, it is easy to get lost and when you get lost you lose precious time for photography and important events! Around every turn is another serine view that is perfect for a photo opportunity. While the bridal room can be a decent walk from the groom's room you can rest assured that no one is going to see the bride before it's time! The dressing rooms are spacious and the steel garden is perfect for both a reception and ceremony.
Disclaimer: We have a special relationship with The Botanical Gardens but we're not obligated to promote them. We give them the praise that they deserve, we are always honored to photograph sessions and weddings at this amazing venue.
Out-of-Town and Budget Friendly Venues
Our Favorite Wedding Venues in Arizona
was last modified:
February 6th, 2018
by